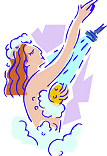 SHOWER: An all-purpose liquid soap, KD Gold by Natural Soap Formulas, makes a great shower soap. Be sure to dilute the concentrated soap 7:1 to prevent drying. Try using a shower filter to keep out chlorine and other impurities from drying out your skin and hair.
FACIAL CARE: If a high-end skin care line is what you seek, the Principal Secret
line has no scent. Cleanser, scrub and moisturizer are especially good.
Puretec also makes a facial moisturizer with no fragrance and all-natural ingredients.
A company that has come to my attention recently is Terressentials.com with their no fragrance organic facial care line. My skin is loving it!
TEETH: A mixture of salt and baking soda is a very effective tooth powder. After brushing, rinse with a solution of hydrogen peroxide and water for a cheap and powerful germ killer and tooth whitener. KD Gold is also great for brushing teeth, although it doesn't taste very good. Do spray your toothbrush with KD Gold to kill the germs.
Make your own hairspray


Two medium lemons cut in eighths
2 cups of water
1 to 2 ozs of vodka or gin

Pour one cup of water in a glass coffee pot. Add lemons. Mark the water level with lemons added, then add the second cup of water. Put the carafe on warm/low burner and let warm until water has evaporated down to the first cup's mark. Pour through strainer and add alcohol. Pour into sprayer. Makes about one cup.

Spray lightly on hair for body and control. Keep refrigerated to prolong freshness.
HAIR: Beware of toxic hair-styling products sitting right on top of your brain. The safest shampoo is the KD Gold liquid soap. Also use Puretec's Super Slick Stuff as a detangler and styling spray.

HAND & BODY MOISTURIZER: Kiss My Face Olive & Aloe Moisturizer for Extra Sensitive Skin, Fragrance Free
- the name says it all.
DEODERANT: Believe it or not, spraying KD Gold in your pits will kill the bacteria and keep you odor free for many hours. So, if you are really sensitive and cannot tolerate commercial or health food store deoderants, you might try KD Gold.
DOUCHE: KD Gold diluted 30:1 makes a safe and effective douche.
FEET: KD Gold is a great foot soak, has been known to heal ingrown toenails and fungus. Users reported that feet and socks cleaned with KD Gold result in an end to a lifetime of foot odor. Can also be sprayed in shoes to kill germs.
ON THE GO: Take a small spray bottle of KD Gold with you in your purse, when traveling or keep one in the car. You are no longer at the mercy of whatever usually anti-bacterial soap is in the restroom and the convenient spray can be used without water or towels to clean hands on the run.
Read this excellent explanation of personal care product ingredients, what's good for you, what to avoid at Terressentials.com